Colts vs. Texans
The Colts may have set the NFL record for the most players inactive coming off a bye week. Not counting players on IR, the Colts were missing their best CB (Powers), their third best CB (Lacey), their starting RB (Addai), and this year's go-to WR (Collie).
Definitely not a situation that a team wants to face when playing a team with Andre Johnson and a prolific passing attack. Then a crazy thing happened, the Colts defense actually had a blitzing scheme designed to cover their coverage flaws. Schaub was pressured consistently in the first half, and he looked completely rattled. In the first half, Schaub went 5-15 for 37 yards and a 14.6 QB rating. The Colts backed off the blitzing when they went up by 21, and Schaub was able to piece together some scoring drives that kept them somewhat close. My guess is that that large of a lead led the coaching staff to employ more cover 2 because they wanted to force the Texans to mount methodical drives and burn up clock. I have no problem with that, even though it did get a little too close at times.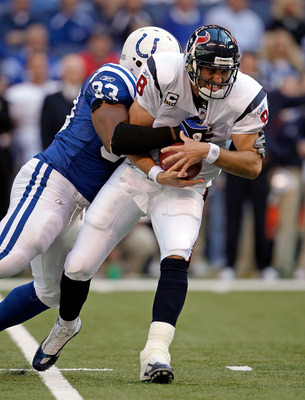 Watching these blitzing schemes wreaking havoc on Schaub, I couldn't help but wonder where this was in the Super Bowl. After the first quarter of the Super Bowl, the Colts were missing their #1 and #2 CBs and Freeney was basically operating on one leg. This was a much worse situation than last night, and yet, the Colts never did any blitzing nor did they show any sign of a scheme. The Freeney injury basically destroyed the ability of the Tampa 2 scheme to have success since it relies on pressure from the front four without blitzing. Apparently the coaching staff forgot this key information, and instead, they just dropped back in zone coverage and allowed Brees to pick them apart. Yes, the Saints may have gotten a big play or two if a blitz was picked up, but that would have been 100x better than letting them march up and down the field eating clock and keeping Manning on the sideline.
Lastly, is there anything more guaranteed in life than Peyton Manning showing up in a night game? He led a team in shambles to another win, and pushed his record in night games to 24-3 since 2005.
What may be the most incredible stat of the year: Before Monday night, 89 percent of Manning's pass attempts had come against nickel or dime coverages. For the lay person, this means that 89% of the time teams are sending out a formation specifically designed to stop the pass while sacrificing a significant ability to stop the run.
Take a second to let that soak in, and then consider his stats so far this year.
65.9% / 312 Yards per game / 15 TDs / 2 INTs / 101.4 QB rating
Teams have zero respect for the Colts running game and play the pass almost exclusively. Yet, Peyton is once again having the best season of any QB in the NFL. Is there any doubt he's the best player on the planet?
Quick shout out to the University of Kentucky's own Jacob Tamme for his performance last night. He stepped into huge shoes to fill and quickly established himself as a trusted weapon.
Redskins vs. Lions
Donovan McNabb may be the most overrated QB of this generation.
How can a QB be considered one of the best of the past decade with a career completion percentage of 58%? Eight of McNabb's twelve years have resulted in a lower than 60% completion percentage. How is this even possible considering he ran a West Coast Offense variant that resulted in a ton of short passes. If anything, that offense should boost the completion percentage.
Shanahan made painfully evident what many have known for a while. Donovan is probably the worst QB in the league at running the 2-minute offense. What does it say about you when you get benched because the coach believes that Rex Grossman is a better option in crunch time? As shown in the Colts game and the Lions game, McNabb consistently makes stupid decisions in pressure situations.
Against the Colts, he got the ball with almost three minutes left in the game only needing three points to tie. McNabb then proceeded to throw two bad passes and then follow those up with an inexplicable deep ball when he only needed 10 yards to convert.
On Sunday, McNabb had the lead and the ball with four minutes left in the game. A normal QB in this situation realizes that the absolute worst thing you can do is force a throw and have it picked off. What does McNabb do? You guessed it. He throws a terrible interception and ends up getting himself benched for the next drive.
Shanahan initially blamed the benching on McNabb's lack of knowledge of the offense. Then he added that he didn't think McNabb was in good enough shape to run a 2-minute drill. So is McNabb stupid or just lazy? He's had months to learn the system, so if that was the issue, his intelligence has to come into question. If he is legitimately too out of shape to play QB in the 2-minute drill, then laziness is the answer. The out of shape claim seems to be the one gaining momentum today. Remember when T.O. said McNabb was completely out of breath and throwing up on the last drive of the 2004 Super Bowl? Doesn't seem like that was made up now does it? And then you have
this gem from Tim Hasselbeck
about McNabb's refusal to practice at a fast pace. Whatever the case, it's time to see Donovan for what he really is……a decent QB and nothing more.
Jets vs. Packers
Coming off a bye, and this is what Rex Ryan brings to the table? What exactly did the Jets work on during those two weeks? All I saw was a bunch of trick plays and gimmicks that resulted in them getting shutout.
It wasn't all on the Jets though. The officials somehow managed to use the dual possession rule to give the Packers two INTs they didn't deserve. In both plays, they went to the ground with at most dual possession and most likely, the WR had possession. After they hit the ground, the DB strips the ball out and gets credited with an INT. If anything, the argument can be made that the second ruling was correct, but I have no explanation for the first ruling. Here's the
video
. Let me know if I'm missing anything.
The Randy Moss Situation
A quick note about the Vikings situation as a whole before I go off on Randy Moss. Brad Childress is an embarrassment to head coaches everywhere, but as more comes out in the Moss situation, Childress looks less and less like the goat. That being said, if the Vikings know what's best for them they cut Favre and fire Childress. This season is over, and they need to evaluate their young talent over the remainder of the season.
Randy Moss is a joke. The true definition of a front-runner, Moss is a guy that no team should want on their team. Maybe this wasn't true a couple years ago, but the 2010 version of Randy Moss isn't worth the trouble by any stretch of the imagination. The indictment of Moss in my eyes isn't of him as a player, it's him as a person and teammate. Whether it be telling reporters that "I play when I want to play," constantly quitting on plays, or incessant pouting and complaining, teams always knew what they were getting into when they brought him in. They justified it based on his status as one of the best WRs in football, but that just isn't true anymore. All you get now is a player who isn't happy anywhere and the biggest locker room cancer in team sports.
Moss let his true character show this weekend. Everyone saw him quit on the Vikings (Him giving up on the pass in the video in a roundabout way led to Brett Favre getting knocked out of the game) in the game against the Patriots. Wasn't Randy supposed to play hard now that he's in a new situation? Nope. Same old lazy Moss. Then he had the nerve to talk about how much he loved the Patriots in the postgame news conference. Really Randy? Is that why you caused so much trouble that the Patriots sent you packing mid-season? Forcing your way off a winning team and one of the best franchises in football shows that you don't care about winning, the team, or your teammates. All Randy cares about is himself.
Remember when T.O. was considered such a bad locker room cancer? I'd take him 365 days a year over Moss.
As much as I criticize Brad Childress, he was rumored to make a good point to his team in the meeting after Moss's release. Childress said
"This just doesn't fit with how we treat people, how we talk to people and how we act." He's right.......unless you are an ego driven, classless idiot like Randy Moss.