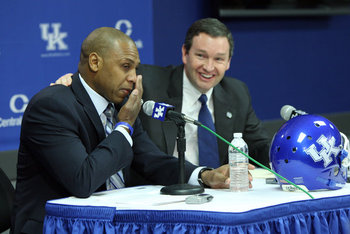 As I mourn Joker Phillips being an idiot and driving away our best hope at QB, other schools are actually getting good news.
I'll let the fans discuss the signings/hate on each other's school in the comments section.
Let me start by saying that UGA's recruiting classes are irrelevant when they win the Fulmer Cup (Award for most/worst arrests in the offseason) and half of them are suspended or kicked off the team.
6-6 Clemson still has Dabo the Donkey running the show so nobody cares.
FSU has a great recruiting class, but they've had top 3 classes in three of the last 6 years and haven't done anything. Congrats on beating South Carolina without their best player.
BREAKING NEWS: Ohio State and other Big Ten teams signed a bunch of white guys.
Oh, and an Ohio State recruit was
just arrested
for fondling eight girls.